Wagyu Beef Ribeye with White Truffle Butter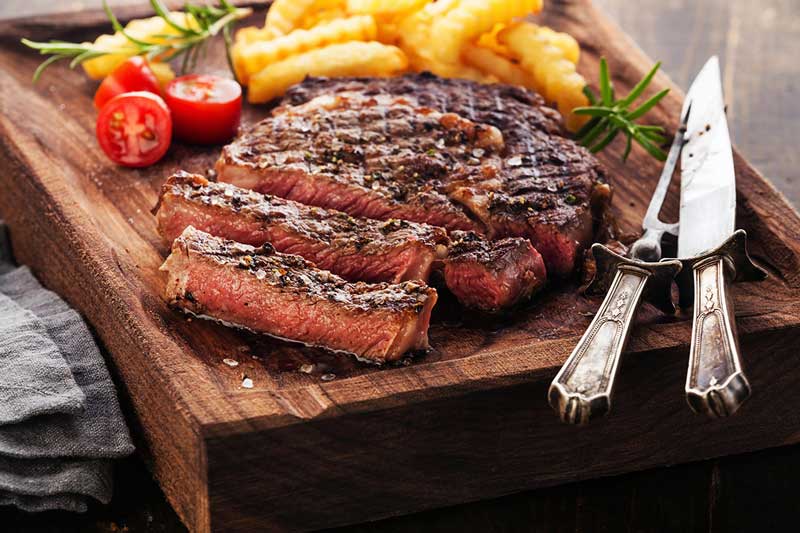 Good For:
Lunch or Dinner
About This Recipe
Ribeye is cut from the center part of the prime rib roast, that is where the 'eye' comes in. It is the juiciest and most flavorful steak you can find. Add in the fact that this is American Wagyu from Missouri and you have one seriously delicious meal. Serve on special occasions or whenever in the mood for a spectacular steak.
Ingredients
(2) 14 oz. Bone Out Wagyu Beef Ribeyes

2 pats of White Truffle butter

Kosher salt and cracked black pepper, to taste
Step 1
Preheat the oven to 450 degrees F.
Step 2
Heat a large, well-seasoned cast iron skillet over high heat until the pan is screaming hot, about 5 minutes.
Step 3
In the meantime, pat the steaks dry then salt and pepper them on both sides.
Step 4
When the skillet is ready, add the steaks and sear them evenly on both sides, about 2 – 3 minutes each.
Step 5
Place the skillet directly into the oven and cook for 5 – 7 minutes more for medium rare.
Step 6
Very carefully, remove the pan from the oven and place steaks on a serving platter.
Step 7
Cover with foil and let rest for 5 minutes at room temperature.
Step 8
Serve hot with a pat of truffle butter on each steak.
P.O. Box 5, 183 Brewery Lane
Westphalia, MO 65085