Furusato Striploin Steak and Seared Wagyu in Red Wine Sauce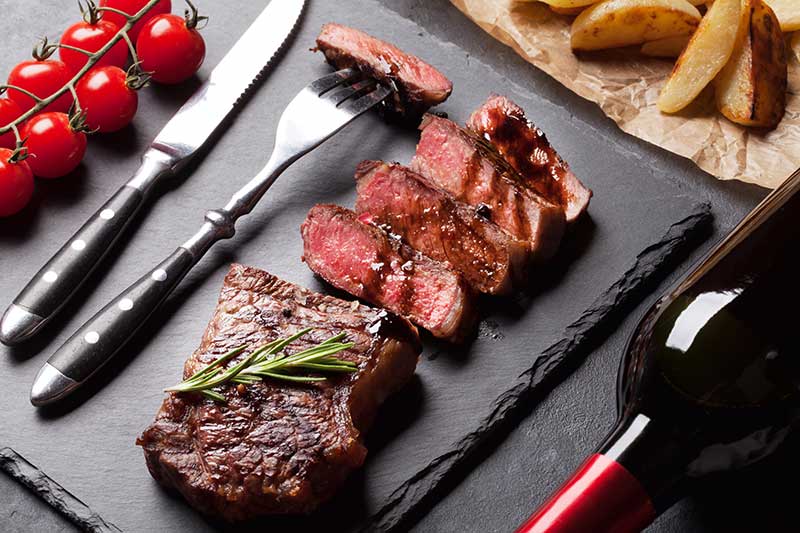 Good For:
Lunch or Dinner
About This Recipe
Furusato translated means "hometown" or "birthplace". This dish will romantically take you back to the special place you most think of as home. Add American Wagyu from Missouri and cozy up to a delicious warm meal. Best served in large festive family gatherings.
Ingredients
(2) 12-14 oz Maries River Wagyu K.C Strip Steaks 
1 shallot, minced
1 tablespoon garlic, minced
1 tablespoon unsalted butter
¾ cup red wine
2 sprigs thyme
Salt and pepper
Step 1
Allow the steaks to come to room temperature to allow for even cooking.
Step 2
Pat steaks dry and season with salt & pepper.
Step 3
Heat pan to medium-high heat.
Step 4
Sear steaks to desired liking (~2-3 minutes on each side). As with any steak, it is important to flip the steaks only one time.
Step 5
Set aside steaks, and allow them to rest for 5 minutes.
Step 1
In the same pan, add minced shallot, minced garlic, & thyme to Wagyu drippings.
Step 2
Pan sear until golden brown.
Step 3
Add ¾ cup red wine.
Step 4
Allow the sauce to boil and cook until it reduced by half. (~5 minutes).
Step 5
Remove from heat and whisk in butter.
Step 6
Salt and pepper to taste.
P.O. Box 5, 183 Brewery Lane
Westphalia, MO 65085