Akogare Wagyu Sirloin Steak & Oishii Potatoes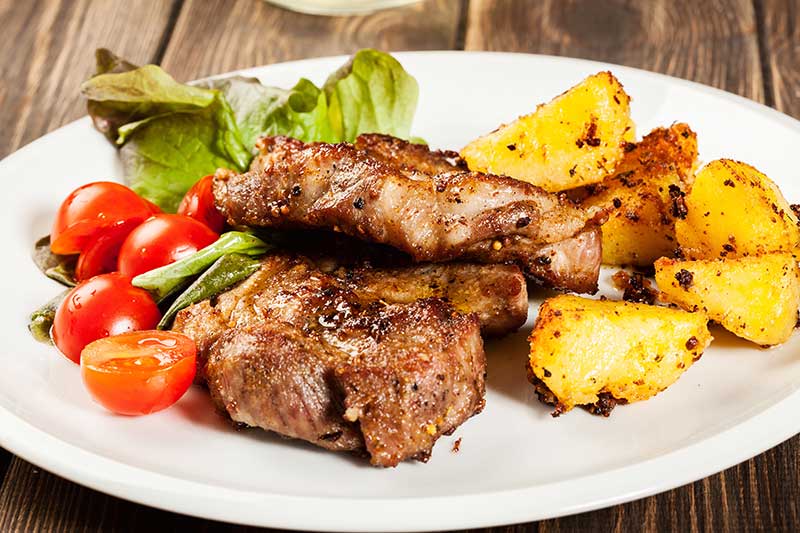 About This Recipe
Akogare in Japanese means to "long for" or "yearn for". This is precisely what the master chef had intended when creating this recipe. Add American Wagyu from Missouri and you will be craving this dish forevermore. Great to serve on date night.
Steak Ingredients
(2) 12-14 oz Maries River Wagyu Sirloin Steaks
1 tablespoon olive oil
½ cup butter
4 cloves minced garlic
1 teaspoon minced thyme
Salt and Pepper
Step 1
In a saucepan saute minced garlic and thyme.
Step 2
Add butter and sauté until melted. Set aside.
Step 3
Allow the steaks to rest until they are at room temperature and pat them dry. This will allow the steaks to cook evenly.
Step 4
Season steaks generously with salt and pepper on both sides.
Step 5
Heat a cast iron skillet over high heat and add 1 Tablespoon of olive oil.
Step 6
Place the steaks in the cast iron skillet and cook to your desired temperature.
Step 7
As with any steak, it is important to only flip the steaks one time.
Step 8
When finished, brush steaks generously with garlic butter.
Step 9
Allow the steaks to rest for 5 minutes.
Reminder to serve med-med rare.
Potatoe Ingredients
1 pound sliced potatoes
4 cloves minced garlic
1 teaspoon chopped rosemary
1 teaspoon chopped oregano
1 teaspoon chopped thyme
2 tablespoon olive oil
Step 1
Heat skillet on high heat and sauté garlic.
Step 2
Add potatoes and olive oil.
Step 3
Add oregano, thyme, rosemary.
Step 4
Optional: Add salt and pepper to taste.
Step 5
Sauté potatoes until tender.
P.O. Box 5, 183 Brewery Lane
Westphalia, MO 65085